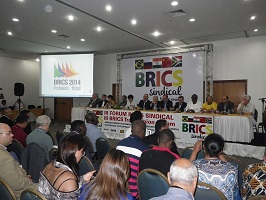 ---
The 3rd BRICS Trade Union Forum was held on July 15-16, 2014 in Fortaleza, Brazil, concurrently with the summit of BRICS leaders. Trade union audience was addressed by Mr. Gilberto Carvalho, Chief Minister, General Secretariat of the Presidency of Brazil, and heads of six national trade union centers of Brazil.
After the exchange of views during two panel discussions, trade union delegates agreed on the content of the Fortaleza Declaration of the Trade Union Forum and signed it right before passing it to the President of Brazil Dilma Rouseff. The declaration reflected the joint view of BRICS trade unions on the current situation in the sphere of protection of the rights and interests of employees and socially disadvantaged groups, measures to achieve the Decent Work standards promoted by the ILO, as well as their opinion on the initiative to set up a BRICS development bank.
The delegates discussed further joint steps to institutionalize BRICS Trade Union Forum and future activities in the light of upcoming Russian presidency in BRICS.
---