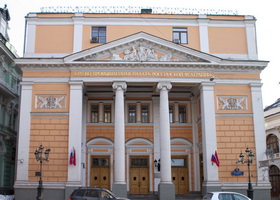 ---
At the meeting, which took place at the head office of the Chamber of Commerce and Industry of the Russian Federation, the prospects for establishing direct contacts between the Trade Union Forum and the Business Council of BRICS were discussed. Mr. Mikhail Shmakov, president of the Federation of Independent Trade Unions of Russia (FNPR) and Mr. Sergey Katyrin, president of the Chamber of Commerce and Industry of Russia (CCIRF), exchanged views on a number of issues of mutual interest.The subject of the meeting was the possibility for trade union experts to take part in the Business Council working groups' activity in cases when matters under consideration concern social and labour relations. Representatives of the Trade Union Forum proposed to work out the format for mutual interaction when developing and implementing the projects to be carried out in BRICS countries with financial support of the New Development Bank (NDB BRICS).
In particular, the meeting focused on the construction of two power engineering facilities in the Republic of Karelia (Russia), the funding for which had been approved by the NDB in 2016. In trade unions' opinion, the key indicator of the acceptability of such projects undertaken through BRICS institutions should be the application of the ILO Decent Work standards at all stages of project implementation from designing to operation. The parties have agreed on the procedure of further cooperation.
The meeting was attended by Mr. Evgeny Makarov, vice-president of the FNPR, national coordinator of BRICS Trade Union Forum, Mr. Vladimir Padalko, vice-president of the Chamber of Commerce and Industry of Russia, and other officials.
---
Events
Delegates of national trade union centres from all BRICS countries were given an opportunity to express their views on the issues on LEMM agenda and to engage in open exchange with the ministers and employer representatives.
Events
Representatives of national trade union centres from Brazil, Russia, China and South Africa discussed topical issues of cooperation within BRICS during the international trade union workshop held on November 14-15, 2016 in Johannesburg (South Africa).
Events
On September 26-27, 2016 the 2nd BRICS Labour and Employment Ministers' Meeting took place in New Delhi with a meeting of BRICS trade union representatives held on its sidelines.